Community
A grand offer
Many of our clients are taken aback by the sight of a baby grand piano in the practice. It has always been Alisdair's dream to have a piano in the practice and thanks to ebay and a lack of space at home, we can now offer something a little bit special for our clients. We have always aimed to create a relaxing environment for our patients and ease any nerves or anxieties and the self-playing piano seems a popular hit, both keeping people entertained and sometimes even lulling them off to sleep! The younger patients are fascinated at how the keys move and play without any assistance. As some of our more musical patients have found out the piano also sounds great when played normally so we don't just want to keep this lovely instrument to ourselves. If you can play, you are always welcome to have a tinkle when you come in. We are also keen to encourage any children who are learning the piano but maybe don't have one at home to come in and practice.
Recycle your spectacles and give the gift of sight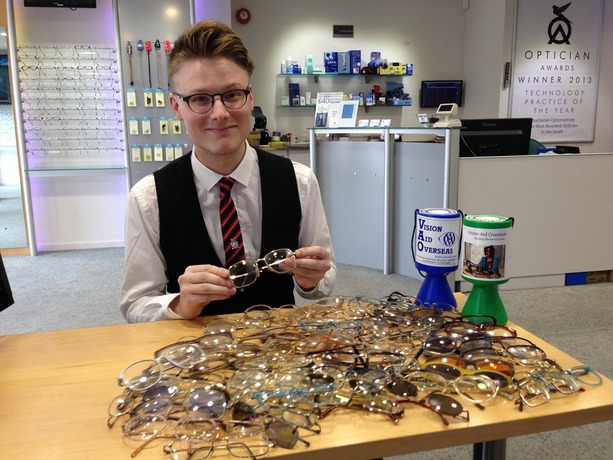 Vision Aid Overseas is an international charity dedicated to fighting poverty by transforming access to eye care in developing countries. 670 million people - 10% of the world's population - are disadvantaged by poor vision and a lack of spectacles.
The leading cause of sight loss in the world is still prescriptive error- meaning that people simply can't see because they are long or short sighted and do not have the spectacles they need to correct this. But we can all help by donating any unused or unwanted spectacles. The gift of spectacles is the gift of sight. A pair of your old spectacles may transform the life of a person thousands of miles away. Being able to see means a child can study or an adult can work and support their family.
Donate your old spectacles at Buchanan Optometrists. We pass these on to Vision Aid Overseas who will recycle them. Good quality spectacles are given directly to those in the developing world that need them. Don't worry if your old glasses are scratched or bent. If they are not good enough to be given away, the metal, plastic and lenses are recycled to provide much-needed funds to support the charity's work. Vision Aid Overseas is committed to establishing locally based eye care services in every country that it operates. Training doctors, nurses and optometrists, to set up sustainable clinics in their local communities provides on-going care for those who need it for the long-term.
So far this year we have collected over 300 pairs of old spectacles which means 300 people in the developing world no longer have to struggle without clear eyesight. Drop your unwanted spectacles into the practice at any time and help us support this fantastic charity.
SeeAbility
We are commited to providing the very best eye care to all. Having registered with SeeAbility we offer services for those with additional needs or learning difficulties including:
Extended eye examinations (i.e. 45 minutes compared to high street average) and are prepared to split the eye test into more than one visit if necessary.
Wheelchair access to practice and consulting room.
Specialist vision testing for those who can not read letters, ie. Kays pictures, Sheridan Gardiner, picture matching, LEA symbols. Some of our staff are also trained with basic makaton signs to help make the examination easier.
If it is required a familiarisation visit by the client with learning disabilities and their supporter before the test.
Disabled parking nearby.
After your eye examination, we have a 'Feedback from my Optometrist' form which can be filled in by the Optometrist to simply explain the results of the examination.
Coloured overlay tests and Eye Tracking
Snodland Town Nomads
We are proud to sponsor the local youth football team, Snodland Town Nomads for the 2014-2015 season. And wish them the best of luck. We look forward to helping hand out some trophies at the end of the season.
Snodland Chamber of Commerce
At the end of 2014 Alisdair took over as the chairman of the Snodland Chamber of Commerce which had been fairly inactive for the last year or so. Along with the other committee members, Alisdair is working on several projects to boost business in Snodland including the pending installation of free Wi-Fi for all businesses, residents and customers in Snodland. They have also arranged advertising discounts with several local newspapers and publications for Chamber members. If you are a local business and have any questions or would like any marketing support or advertising advice please call the practice.
To follow our latest community involvement and also be updated on any current offers and promotions please follow us on facebook.