Community
A grand offer
Many of our clients are taken aback by the sight of a baby grand piano in the practice. It has always been Alisdair's dream to have a piano in the practice and thanks to ebay and a lack of space at home, we can now offer something a little bit special for our clients. We have always aimed to create a relaxing environment for our patients and ease any nerves or anxieties and the self-playing piano seems a popular hit, both keeping people entertained and sometimes even lulling them off to sleep! The younger patients are fascinated at how the keys move and play without any assistance. As some of our more musical patients have found out the piano also sounds great when played normally so we don't just want to keep this lovely instrument to ourselves. If you can play, you are always welcome to have a tinkle when you come in. We are also keen to encourage any children who are learning the piano but maybe don't have one at home to come in and practice.
Recycle your spectacles and give the gift of sight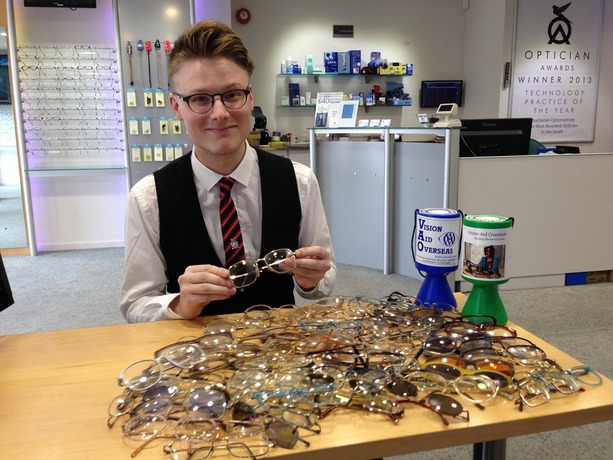 Vision Aid Overseas is an international charity dedicated to fighting poverty by transforming access to eye care in developing countries. 670 million people - 10% of the world's population - are disadvantaged by poor vision and a lack of spectacles.
The leading cause of sight loss in the world is still prescriptive error- meaning that people simply can't see because they are long or short sighted and do not have the spectacles they need to correct this. But we can all help by donating any unused or unwanted spectacles. The gift of spectacles is the gift of sight. A pair of your old spectacles may transform the life of a person thousands of miles away. Being able to see means a child can study or an adult can work and support their family.
Donate your old spectacles at Buchanan Optometrists. We pass these on to Vision Aid Overseas who will recycle them. Good quality spectacles are given directly to those in the developing world that need them. Don't worry if your old glasses are scratched or bent. If they are not good enough to be given away, the metal, plastic and lenses are recycled to provide much-needed funds to support the charity's work. Vision Aid Overseas is committed to establishing locally based eye care services in every country that it operates. Training doctors, nurses and optometrists, to set up sustainable clinics in their local communities provides on-going care for those who need it for the long-term.
So far this year we have collected over 300 pairs of old spectacles which means 300 people in the developing world no longer have to struggle without clear eyesight. Drop your unwanted spectacles into the practice at any time and help us support this fantastic charity.
The Lejeune Clinic
Buchanan Optometrists are proud to announce our chosen charity for 2014-2015 is The Lejeune Clinic for Children with Down Syndrome. The clinic was the first in the country to specialise in the assessment and treatment of babies and children with Down syndrome. It provides unrivalled specialist assessment and advice that can improve all aspects of the child's development and empower parents with the medical, educational and therapeutic support a child needs to fulfil their potential. The charity is particularly close to our hearts as we have been lucky enough to see how the clinic has helped our friend's daughter Beatrix. Beatrix was born with Trisomy 21 more commonly known as Down Syndrome. Over the last four years she has regularly attended The Lejeune clinic who have helped her truly thrive and become the beautiful, confident young lady she is today. The clinic has also been a tremendous support to her parents John and Claire through some difficult times and they are active fund raisers to help the clinic support other families in need of the clinic's expertise.
The Lejeune Clinic for Children with Down Syndrome is an independent charity whose income depends entirely on voluntary donations, so this year we aim to help. Last year, through Cornell's Jewellers charity event we auctioned £1000 worth of spectacles to help raise over £1760 for the charity. For every Comprehensive Ophthalmic Examination carried out we will give £10 to The Lejeune Clinic.
The Comprehensive Ophthalmic Examination is the most thorough eye examination possible. There are very few Optometry practices in the UK that have the expertise and equipment to be able to carry out such an examination. It provides early detection of many conditions including Glaucoma, Macular Degeneration, Cataracts and Visual field problems.
When you book for your next eye examination please ask for the Comprehensive Ophthalmic Examination and help support this wonderful charity. Call to book today on 01634 240645.
Snodland Town Nomads
We are proud to sponsor the local youth football team, Snodland Town Nomads for the 2014-2015 season. And wish them the best of luck. We look forward to helping hand out some trophies at the end of the season.
Snodland Chamber of Commerce
At the end of 2014 Alisdair took over as the chairman of the Snodland Chamber of Commerce which had been fairly inactive for the last year or so. Along with the other committee members, Alisdair is working on several projects to boost business in Snodland including the pending installation of free Wi-Fi for all businesses, residents and customers in Snodland. They have also arranged advertising discounts with several local newspapers and publications for Chamber members. If you are a local business and have any questions or would like any marketing support or advertising advice please call the practice.
To follow our latest community involvement and also be updated on any current offers and promotions please follow us on facebook.