E-scoop lenses for Macular Degeneration
New E-Scoop lens can improve vision for people with Macular Degeneration
Age-Related Macular Degeneration (AMD) is the leading cause of sight loss in the UK. It affects the central vision and can make seeing fine detail like reading very difficult or impossible. The advent of a new spectacle lens called E-scoop has offered hope for those whose sight has deteriorated through this condition (or other macular diseases). The new lenses look like no other spectacle lens. The unique curve, thickness, prism, colour and coating could improve your vision significantly.
The lenses can give you:
Partial recovery of your central vision
Reduction of your sensitivity to light and glare
Better recognition of details
Improved contrast
Improved depth perception
It is very simple to try the new lenses - we have a set of lenses you can try over the top of your prescription spectacles (you need to have a current up-to-date pair of spectacles) - If you get the "WOW" factor - they work. They really can improve your vision significantly, and we have had many clients like you who have found these to be a massive benefit. If the trial clip-on works, we can then make the lenses to your prescription, further improving the sight that you achieve.
So how do they work?
The lens thickness and curve magnifies the vision
We displace the image your eye sees onto a part of your macula that is healthier and therefore has a higher quality of vision than the damaged macula (see image below)
Research has shown that the lower part of your macula suffers the most damage, so we shift the image upwards to a healthier part of your macula.
The special colour of the lenses provides you with more contrast and a reduction of sensitivity to light
We reduce reflections with a high-quality anti-reflection coating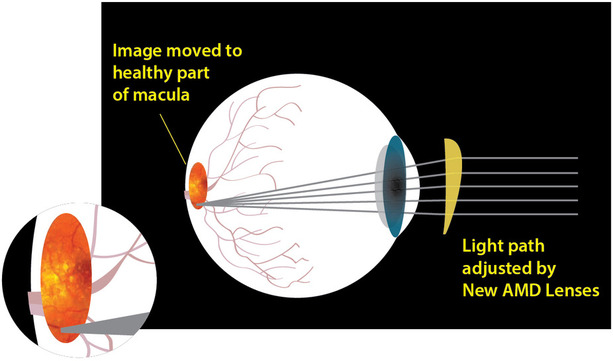 Are these eccentric viewing spectacles?
No - Macular degeneration normally damages the inferior part of your macula and these new lenses shift the image to a healthier part. The image is always kept within the macular area. Most of our clients are looking for the best image quality, with these spectacles this process is repeatable and provides a restful view of the image.
How long does it take to get used to your new lenses?
Adaptation time is very quick; you should immediately experience a "WOW' factor.
Who can benefit from theses lenses?
These are primarily developed for you if you have macular degeneration. You can find the beneficial effects of these new lenses at every stage of macular degeneration.
What do I do next?
Call 01634 757227 to book an appointment to come and see the lenses and try them out. Bring your up to date spectacles and prescription. Please bring any reading material or objects you are struggling to see so you can test for an improvement. If your glasses are not very recent we recommend booking an eye examination with us at the same time. E-scoop lenses work best when the prescription is as accurate as possible.