You are here:

10,000 Customers Choose Buchanan Optometrists
10,000 Customers Choose Buchanan Optometrists
This week we were extremely pleased to mark our ten thousandth patient joining the practice. The lucky lady in question, Mrs Roberts, received a bouquet of flowers and £100 of shopping vouchers to mark the special occasion.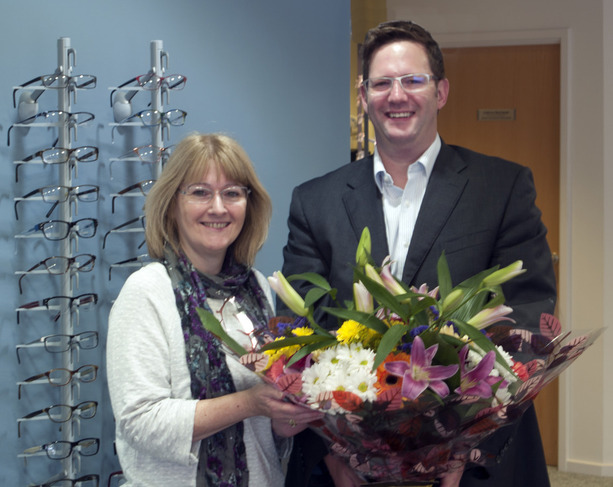 Mrs Roberts said:
I visited Buchanans recently, for the first time. My husband has been a customer for years and wanted me to have the tests for glaucoma that he had undergone on his last visit. I privately thought, 'all opticians do tests for glaucoma', but I went along to see what he was talking about. The tests I had were additional to the usual pressure tests. They were very thorough and Kathryn explained what was happening and took me through the results. Consequently, as a result of what she picked up, I am having them repeated in six months. I then chose some lovely glasses, with the help of Gill who gave some really good practical advice. It was only after all this that I was approached by Alisdair who congratulated me on being their 10,000th customer! What a surprise. Whilst I didn't do a supermarket sweep, I did receive a gorgeous bunch of flowers and £100 shopping vouchers. What a treat! However, in all honesty it is a treat coming here. Alisdair, Kathryn and all the staff are so very friendly, helpful and knowledgeably. They explained everything and patiently answered all my questions. They are totally professional, have a good sense of humour and made my visit very pleasurable .I have been wearing my glasses for some weeks now and they are excellent. I thoroughly enjoyed my first visit, I'm very glad I had the glaucoma tests and will definitely be returning.
We would like to thank all our patients for their loyal support and look forward to welcoming many new faces to the practice. Book an appointment and see why so many people trust us with their eye care!