You are here:

Macular Imaging
Macular Imaging
The retina is the inner lining at the back of your eye. When an Optometrist looks into your eye or takes a photograph, it is the retina that they are looking at. Many conditions can cause damage to the highly sensitive, central part of the retina, known as the macula. In their early stages, conditions such as macular degeneration, macula holes and vitreo-macular traction, may not be visible on retinal photographs or when the optometrist looks into your eyes. This is because these methods just look at the top surface of the retina, and the damage is actually occurring to the deeper layer of tissue which is not visible using these techniques.
At Buchanan Optometrists we are able to see these deeper layers of tissue and in microscopic detail. To do this we use the Spectralis 4D OCT Eye Scanner which is the equivalent to a CAT scan of your eye. This helps us to find the smallest sign of problems long before they may be visible on the retinal surface and can be seen by standard retinal photography or by looking into your eyes. The new Spectralis 4D OCT can help us diagnose and monitor all macular conditions with the accuracy of one thousandth of a millimetre. Earlier detection leads to earlier treatment, a better prognosis and in some cases prevention of conditions developing at all.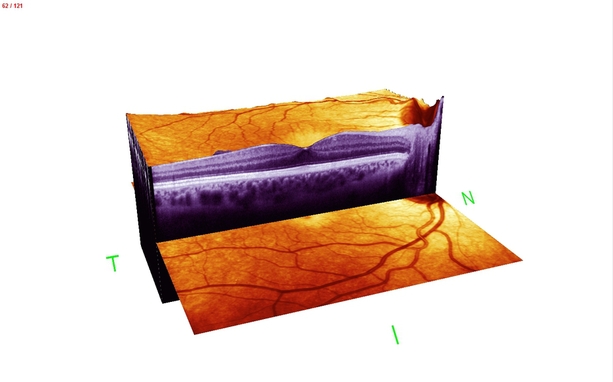 If you have been diagnosed with a macular problem or have a family history of macular disease, book an appointment for Spectralis 4D OCT Eye Scanning today. Call 01634 240645 or click the call me back button at the top of this page.