Eye Examinations
Choose Buchanan Optometrists: Your Eyes Deserve the Best!
Don't Settle for Less—Your Eyesight is Priceless
Your eyes are irreplaceable. Why take chances when it comes to your vision? At Buchanan Optometrists, we don't just offer eye tests; we offer lifelong eye care partnerships. With cutting-edge technology and expert Optometrists, we can identify the earliest signs of eye conditions that often go unnoticed. Protect your eyesight by choosing the best care available.
Custom-Tailored Exams: We Take the Time to Know You
You're one of a kind, and so are your eyes. Our eye examinations are tailor-made based on your and your family's health history and our meticulous clinical findings. With exams ranging from 40 to 90 minutes, we take our time, ensuring a comprehensive and unhurried evaluation.
Cutting-Edge Technology: Detect Problems Before They Detect You
Our clinic boasts some of the most advanced diagnostic equipment in the UK. The revolutionary Heidelberg Spectralis 4D OCT eye scanner allows us to probe areas of your eyes typically overlooked in standard tests. From glaucoma to tumours, we can detect problems years before they become severe.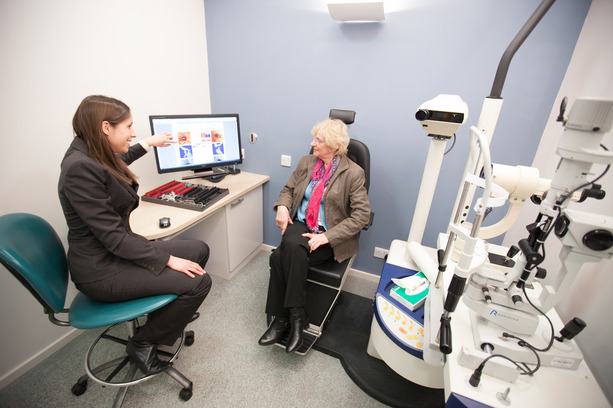 What We Offer:
Total Visioncare Examination: Our standard yet thorough exam for all adults, offering unparalleled eye health checks.
Heidelberg Spectralis 4D OCT: A groundbreaking technology providing an in-depth view of your eyes, often saving your sight.
Glaucoma Monitoring: Our 4D GMPE scans offer continuous monitoring and peace of mind for those with a family history of glaucoma, much more accurate than a basic sight test most opticians offer.
Myopia Control: Are you concerned about your child's nearsightedness getting worse? Using specialised lenses, we offer Myopia Control to slow down the progression.
Visual Stress Testing: Struggling with reading difficulties, migraines, or eye strain? The Visual Stress Test identifies visual stress and offers solutions like precision-tinted lenses to make life easier.
Cutting-Edge Dry Eye Treatment: Our E-eye pulsed light treatment can reduce or eliminate your reliance on at-home dry eye treatments.
Macula Imaging: Crucial for identifying and monitoring macular conditions.
Children's Eye Examination: Kids can't always articulate vision issues. Our regular checks ensure they see their best, which means performing their best in school.
Contact Lens Consultations: Whether you're new to contact lenses or looking for an upgrade, we'll help you find your perfect match.
Feeling nervous or have special requirements? We're here for you. Learn how we can accommodate your needs here.
Book Now for a Brighter Tomorrow
Ready for a next-level eye care experience? Call us today on 01634 757227 or click here, and we'll call you back immediately.
Trust your vision to Buchanan Optometrists - because your eyes deserve the best.