Tailor-made Frames
Imagine the most beautiful pair of spectacles in the world, and they happen to suit and fit you perfectly. Imagine no more; Buchanan Optometrists tailor-made bespoke and couture spectacle frames make this dream a reality.
If you have ever felt trying on new spectacles was a chore instead of a joy, then you will love our tailor made service. Over the years you may spend thousands of pounds on your wardrobe yet limited by off the shelf one-size-fits-all spectacles you are forced to compromise on the one item that you wear every day and defines your face. Imagine choosing the exact colour, material and style of frame to perfectly compliment your skin, face shape, lifestyle and personality. No more finding an off the shelf frame and wishing it was slightly, smaller, rounder or a different colour that better suited you. You can now decide what your spectacles will look like without being limited to what you find on the shelf.
Minute details such as titanium hinges, gold clasps, diamonds and different colour sides can all be specified to add to your unique spectacles. For that extra personal touch, we discretely laser engrave your name inside the spectacle arm.
The vast majority of spectacle wearers wear spectacles that don't fit. We are all different shapes and sizes and finding an off the shelf option that fits perfectly can be impossible. There is nothing more annoying than wearing spectacles that aren't perfectly comfortable. If your spectacles often slip down your nose, dig in or rub, you don't have to put up with this any longer. Couture frames are made using precise measurements of your face, nose, eyes and ears to get the perfect fit, just like a tailor would measure you for a suit. The result is a pair of beautiful glasses that are perfectly comfortable and you enjoy wearing.
Why buy off the shelf when you can have it fitted perfectly for you for just a little bit more. Bespoke frames start at £400 and allow you to tweak colours, sizes and side lengths from a ready to wear collection.
Couture frames made exactly to your size, face shape and design and material specification start from £1000, a lot less than a bespoke suit which you will only wear occasionally and not every day.
The design process is made easy using our dispensing optician's expertise and computerised designing tools. You meet with your optician, have a sophisticated series of measurements and photos taken, select from our portfolio of materials and colours and input your design ideals. Our design team will then visualise your frame and design preferences and produce photographic designs. We can even send you a portfolio of proposed designs that you see exactly as they will look on your face. At this stage, you can change whatever you like, make comments and even open an online poll for your friends to vote on which design they like the best. You then choose the frame you like and wait for it to be handmade exclusively for you. Typically, you will have your unique, personalised new glasses within three to six weeks.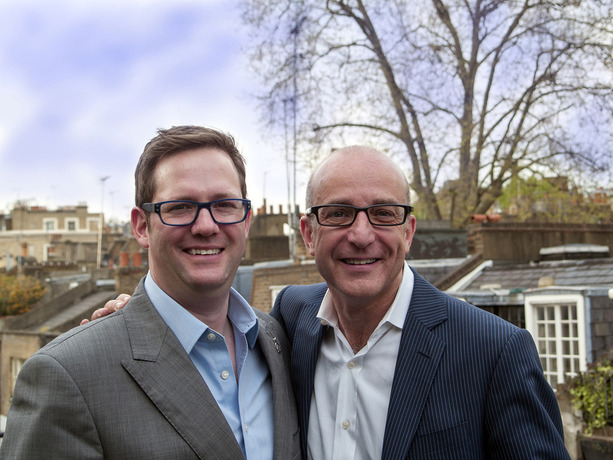 Alisdair Buchanan and best selling author Paul McKenna both wearing couture tailor-made frames from Buchanan Optometrists
Tom Davis-Horn


We are also very pleased to have some beautiful horn frames from British Designer Tom Davis. 35% lighter than acetate, it's a natural choice for those seeking a frame that is gentle, kinder to their skin and allergy safe. The Natural Horn is from non-endangered domestic animals which also supply the locals with milk and leather, making the horn used in Tom's frames a natural by-product. The frames feel and look beautiful against the skin.