You are here:

Children's Sunglasses
Children's Sunglasses
Children's eyes must be protected from the sun to avoid putting them at risk of permanent damage to their sight. Even with the unpredictable British weather, the UV rays are still getting through.
Our eyes are ten times more sensitive to UV light than our skin and children's eyes are at the greatest risk of UV damage. Big pupils and clearer lenses mean up to 70 per cent more UV light reaches the retina than in an adult's eye.
Latest figures from World Health Organisation estimate that this lack of natural eye protection combined with the disproportionate amount of time children spend playing outdoors could mean that as much as 80 per cent of a lifetimes' UV is absorbed into the eye by the time a child reaches the age of 18.
Cumulative exposure to UV is one of the main risk factors of age related macular degeneration – the leading cause of sight loss in the UK and cataracts, a clouding of the eyes lens, which affects one in three people aged over 65 years. Starting wearing sunglasses early in life can help prevent these eye conditions.
Therefore as well as sun cream and sun hats we recommend that children should start wearing sunglasses as soon as they will keep them on!! We stock Baby Banz, Kids Banz and J–Banz children's sunglasses which fit babies and children from 1year upwards. The frames and lenses are impact resistant, light-weight and 100% UVA and UVB protective. The Neoprene elastic strap keeps them in place and allows for flexibility, breath-ability, and comfort. Buchanan Optometrists stock such a wide variety of cool colours and designs that children don't want to take them off!! We can also put prescription lenses in so the youngest members of the family do not need to miss out on UV protection and fashion just because they need prescription spectacles.
Beware of cheap or fun sunglasses which can actually do MORE harm to the eye if you put an inferior lens in front of the eye! Behind tinted lenses, the iris opens to allow more light into the eye; if the lens doesn't protect properly, and more UV light gets into the eye potentially damaging the child's eye. At Buchanan Optometrists, Children's sunglasses start from only £15. All our sunglasses are 100%UVA and UVB protective so you can be safe in the knowledge that you are protecting your children's delicate eyes from the sun. Call in to see our range of children's sunglasses.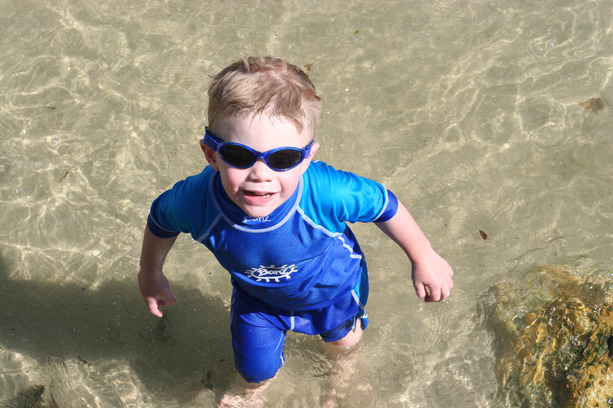 For active children we supply UV inhibiting contact lenses to protect their eyes even when it may be impractical to wear sunglasses. Suitable in some cases from 7 years old, you may be surprised how your child loves wearing them. For further information see contact lenses.