You are here:

C W Dixey & Son
C W Dixey & Son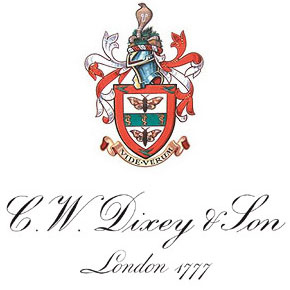 C.W. Dixey & Son of London has been creating exquisite eyewear for a discerning and sophisticated clientele since 1777.
Their distinguished patrons have included legendary leaders and iconic figures such as Sir Winston Churchill, seven Kings and Queens of England, Napoleon Bonaparte, and James Bond creator, Ian Fleming. So when you choose C.W. Dixey & Son, you join the company of some of the most influential and exacting people in history.
C.W. Dixey & Son is the oldest independent eyewear company in the world. Since the company began, ownership has passed between friends or family and to this day they remain an English family business, based in London.
The company started at 3 New Bond Street where William Fraser established his optical and mathematical instrument company. In the early years he kept a cow to refresh thirsty customers, so even in those days a commitment to customer satisfaction was evident - if not a little primitive! Not as luxurious as our freshly ground coffee, but we assume more entertaining for the customers.
Holders of 15 royal warrants and manufacturers of 10 British prime ministers spectacles inclusing Sir Winston Chirchill, C.W. Dixey & Son boast an unrivalled pedigree. But their fundamental principles of quality and exclusivity remain the same. Their eyewear is designed in Great Britain and made in France using fine materials, limited production, and artisan craftsmanship to ensure the most beautiful products. To ensure perfect measurements and fitting they only allow very few practices in the UK to stock their products, we are extremely pleased to bring these beautiful frames to Kent.
A