Sunglasses
Sunglasses are more than just a fashion accessory (although they do a good job of that too!) Most people are now aware of the need for skin protection against the sun but often forget about their eyes. Even in drizzly England the UV rays do get through and aside from glare and eyestrain, prolonged exposure can lead to cataracts, macular degeneration, photo-keratitis as well as eye lid melanomas. Wearing the right UV protection is essential for everyday tasks.
Sunglass lenses can also sharpen and enhance your vision, making activities like driving safer and more comfortable. We can guide you on the most suitable lenses for your needs. Different lenses offer different protection and contrast enhancing features depending on your requirements. All our lenses are 100% UVA and UVB protective and are available in non-prescription and prescription lenses including varifocals.
Frame choice is also extremely important to ensure comfort, durability and fit. Come in and browse our range of sunglasses and ask our dispensing opticians for their expert advise.
Making driving safer
Have you ever driven when the sun is low and the visor in your car appears to offer little resistance against the blinding sun? Have you ever driven on a wet road when the sun has come out and turned the surface to a glass like appearance? Have you ever been unsure what could be hiding in the shadow of a hedge or at the dip of a hill? Do you have light coloured eyes or early cataracts, which cause increased glare levels?
Yes?
Having the correct lenses can help elevate all these problems, making driving safer and more comfortable, allowing you to see every detail on the road. As the maker of the world's finest driving sunglass, Serengeti® are the number one choice for many professional drivers, pilots and military personnel. They are also the lenses that our optometrists wear throughout the year whenever driving. Serengeti® photochromic lenses feature unparalleled technology to adjust to changing light conditions. Amazingly versatile, the lenses darken in very bright conditions and lighten in overcast or low light levels, to offer the very best protection and superior visual acuity in varying light conditions in any season.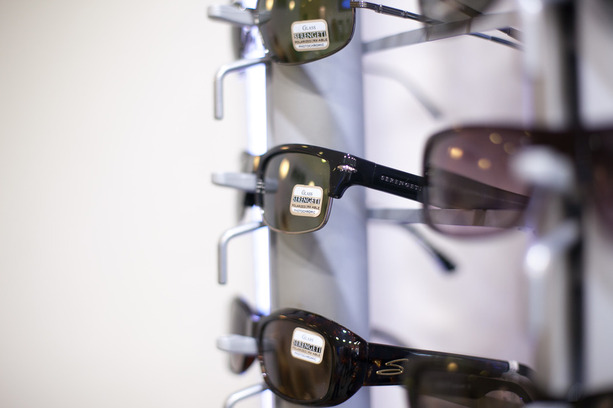 Serengeti® lenses are all polarised, photochromatic and contrast enhancing, giving you the sharpest possible vision. Serengeti® makes two types of lenses, glass and Polar PhD. Both lenses feature Serengeti's incredible photochromic technology, which should come as no surprise because Serengeti pioneered this technology. Available in non-prescription, prescription and varifocal lenses.
Here's a review of Serengeti sunglasses by one of our clients Mrs Burchell 'Wow !!!! What can I say, there really is such a thing as the preverbal Rose tinted glasses. Well what seems like it anyway and they are called Serengeti Sunglasses. I have a problem with my pupil called Adie's pupil which means that one pupil is permanently fixed & dilated and therefore allows to much light into my eye which makes it very uncomfortable. The Serengeti Sunglasses simply make everything pretty & appear more beautiful to the eye as well as sharpening the images. They have special contrast enhancing lenses that block all glare which means driving now is much more pleasurable. I can now drive into full sun without worrying because I see everything with these sunglasses on. They are just simply fantastic !!!!'
Drivewear lenses are adaptive polarized photochromic prescription sunglass lenses designed for drivers. The lenses are designed specifically to meet the unique visual demands of driving, providing enhanced visual performance and a more enjoyable driving experience no matter what the weather.
These lenses combine polarization and advanced Transitions which activate with visible and UV light to automatically change their degree of darkness and colour. The brighter the weather, the darker the lenses go, meaning they work just as well on a dull cloudy day as they do on a very bright sunny day. Drivewear lenses can make driving more comfortable and enjoyable, enhancing your vision everyday.
Transitions® Signature™ lenses are as clear as an ordinary lens indoors and darken to a sunglass tint outside. The New signature lenses are more responsive to light and have a faster fade back to clear than previous Transitions. Transitions XTRActive lenses now also darken in a car. Ask our dispensing opticians for more information.
Sport
If you want to gain the competitive edge in your sport and protect your eyes against injury, read more about Sports sunglasses.
Contact lenses
Where possible all our contact lenses are also UV inhibiting to offer you sun protection even when you can't be wearing sunglasses.