Cinematic Vision
Lights, Camera, Glasses! The Behind-the-Lens Story of Buchanan Optometrists & Wes Anderson's "The Wonderful Story of Henry Sugar"

When Hollywood Meets High-Quality Optics: A Match Made for the Silver Screen
You've seen the films. You've marvelled at the visuals. But have you ever wondered what goes on behind those iconic frames donned by your favourite stars? Enter Buchanan Optometrists in Snodland, the unsung hero behind the eye-catching eyewear featured in Wes Anderson's latest cinematic masterpiece, "The Wonderful Story of Henry Sugar."
The Reunion with Wes Anderson: A Symphony of Vintage Frames and Modern Expertise
After an immensely successful collaboration in the past, Wes Anderson knew exactly whom to turn to for the unique eyewear requirements of his new project—us. At Buchanan Optometrists, we pride ourselves on our unparalleled expertise in working with vintage frames. Often fragile and intricately designed, these vintage pieces are restored to their original splendour under the masterful touch of our skilled opticians.
But it doesn't stop there. Our lenses are engineered to be virtually reflection-free, an essential attribute when every frame counts on the big screen.
A True Test of Skill: Lenses, Contacts, and Impeccable Craftsmanship
One of the unique challenges on set involved the consultation for contact lenses that would aid an actor who had to wear thick lenses for their character. Seamlessly marrying comfort and style, our team ensured that even the most elaborate looks were perfectly wearable.
Alisdair Buchanan's Take: The Excitement of Movie-Making Madness
"It was electrifying to be amidst the frenetic pace of a Hollywood set. With deadlines looming large and expectations high, we sprinted through challenges—hand-polishing fragile frames, glazing specialised lenses at lightning speed, and even dashing to London to pick up imported Italian lenses. Yet, despite the rush and the rigid Covid protocols, the experience was exhilarating. Collaborating with the imaginative props team opened a new world of fascination for us. At the end of the day, our passion for perfection and timeliness shone through, making the challenge not just manageable but truly enjoyable."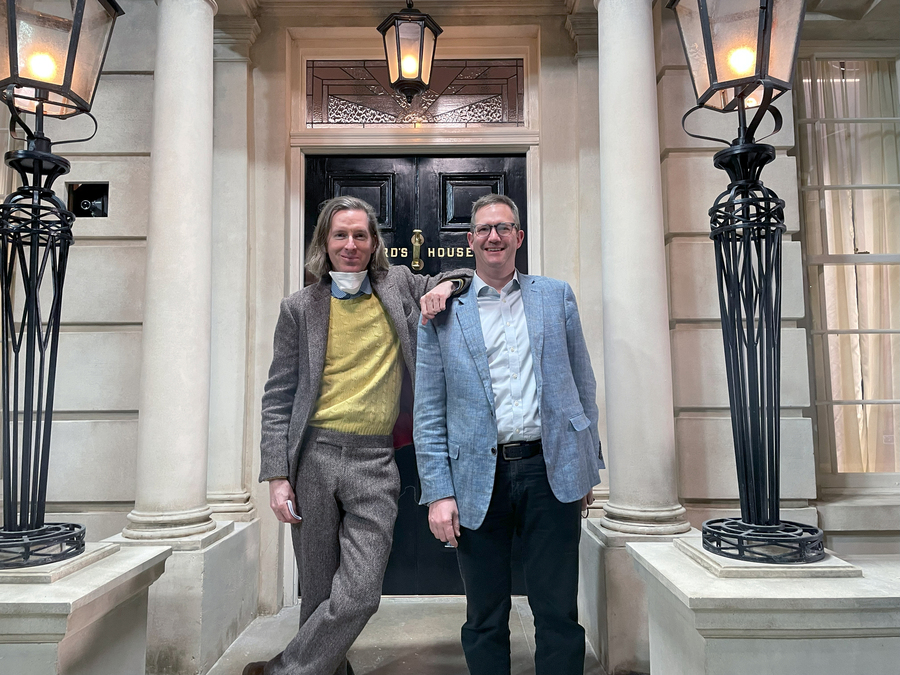 The Unsung Side of Buchanan Optometrists: A Legacy on the Silver Screen
While we're known for our excellence in optometry, what many may not realise is our silent but indelible mark on the film and television industry. Whether it's a timeless classic or a modern blockbuster, our presence ensures that the eyewear is nothing short of extraordinary.
Isn't it about time you experienced the Buchanan Optometrists difference? After all, if we can meet Hollywood's exacting standards, imagine what we can do for you.
Contact Us Today to discover more about our services and why the biggest names in the industry choose Buchanan Optometrists for all their eyewear needs.
Or in a familiar style....
Envision a world where you too can join the ranks of the notoriously perspicuous elite—a cadre of individuals hailed for their impeccably keen eyesight, all thanks to Buchanan Optometrists. Contact us today, if you're so inclined, and unearth the dazzling array of services that have made us the undisputed eyewear curators for the most illustriously bespectacled personalities of our time.