Alisdair Buchanan
B.Sc., MCOptom., F.B.D.O., Dip.O.D. - Senior Consultant Optometrist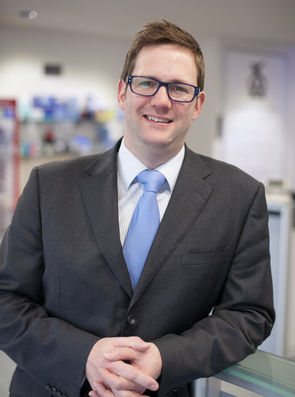 In 2017 Alisdiar was awarded Optometrist of the Year at the UK Optician Awards. With 14,000 Optometrists in the UK, winning is an amazing accolade. Judges recognised his commitment to utlise the latest technology in eye disease detection and dry eye treatment as well as his commitment to ensure the practice team go above and beyond to care for every client.
Alisdair has a wealth of experience in optics and is one of only a small number of Optometrists to have studied and qualified as both an Optometrist and Dispensing Optician. His training began in 1991 in Bradford where he gained a diploma in Ophthalmic Dispensing and qualified as a Dispensing Optician. In 1995 he was admitted to the Association of British Dispensing Opticians and honed his skills, gaining experience in lens design, designing bespoke spectacles and fitting spectacles. In 1996 Alisdair's passion for Optometry took hold and he spent the next 3 years gaining a Bachelor of Science degree in Optometry at University of Manchester Institute of Science and Technology. Since being admitted as a member of the College of Optometrists in 1999 Alisdair has gained an armful of qualifications and a wealth of practical experience. Having worked for a number of independent practices both in Manchester and locally, Alisdair realised that there were very few practices nationwide who were able to offer patients both the comprehensive eye care and the very best in spectacle technology. Therefore in 2000 Alisdair purchased an established and reputable practice in Snodland and set about developing the practice to become a UK leading centre of excellence for eye care and spectacle and lens technology. Alisdair was instrumental in the development of tailored individual lens design, being the first practice in the UK in 1997 to offer Zeiss computerised measuring technology to reduce distortions and enhance field of view through varifocal lenses.
In 2010 Alisdair was one of the first Optometrists in Kent to gain a qualification in OPwSI Ophthalmology. This enabled him to put his skills and highly equipped practice to use by seeing all patients referred from local GPs or Opticians under the NHS Community Ophthalmology clinics.
Alisdair specialises in glaucoma and dry eye care and has lectured since 2014 at Moorfields Eye Hospital Dry eye seminars.